Sustaining ocean ecosystems and the people who depend on them by transforming global seafood supply chains
| | |
| --- | --- |
| Message from the Outgoing CEO | |
Hello ,

As 2021 comes to a close, so does a significant chapter of my professional life as I step down from my role as FishWise's Chief Executive Officer. Growth in today's world requires bold change. After considerable reflection, this moment is timely to pursue this transformation, both at FishWise and personally.

After 17 years of leading FishWise, we have achieved so much more than I could have ever imagined. Our talented team leads some of the most ambitious sustainable seafood commitments through our national business partnerships, we have realized international prominence via the Seafood Alliance for Legality and Traceability (SALT), and we continue to guide the industry in social responsibility with the Roadmap for Improving Seafood Ethics (RISE). FishWise's evolution towards a holistic approach, in which we value environmental and social responsibility equally, aligns with my own passion for supporting a fair and just world in seafood. But, it would not be where it is today without your help and the support of our funders, partners, and many collaborations across the environmental and human rights communities. I am deeply grateful to have played a part in bringing these communities together, and after a bit of time to reflect and recharge, I will explore new opportunities to create good in a world that depends on transformational change.

In the coming months, FishWise will conduct a national search for a new visionary to boldly lead FishWise toward even greater impact. In the interim, I am incredibly grateful for the FishWise staff, Leadership Team, Board of Directors, and the interim Executive Director to lead FishWise through this exciting time of growth and transition. Thank you for your continued support over the years and on behalf of FishWise, have a wonderful holiday season!

In service,
Tobias Aguirre
HELP LIFT OUR WORK IN 2022
We invite you to be a part of our mission to sustain ocean ecosystems and the people who depend on them by making a donation today. Your gift will help FishWise positively change the future of seafood.
Give until midnight on December 31, 2021
, and you can receive a tax receipt. We are grateful for your ongoing support and partnership in the transition toward a sustainable and responsible seafood supply.
NEW SOCIAL RESPONSIBILITY COACHING PROGRAM
Start 2022 off right by getting the support you need to take meaningful action on human and labor rights! FishWise recently launched a Coaching Program to provide a custom-tailored coaching experience for the next leaders in social responsibility. Get in touch to learn more about the Coaching Program or other FishWise Services.
2021 Reflections and New Year Aspirations
The FishWise Traceability team recently shared a blog that features their proudest moments in 2021 and what they are most excited for in the New Year ahead. As 2021 comes to a close, we are proud to share some of our favorite achievements from this past year below.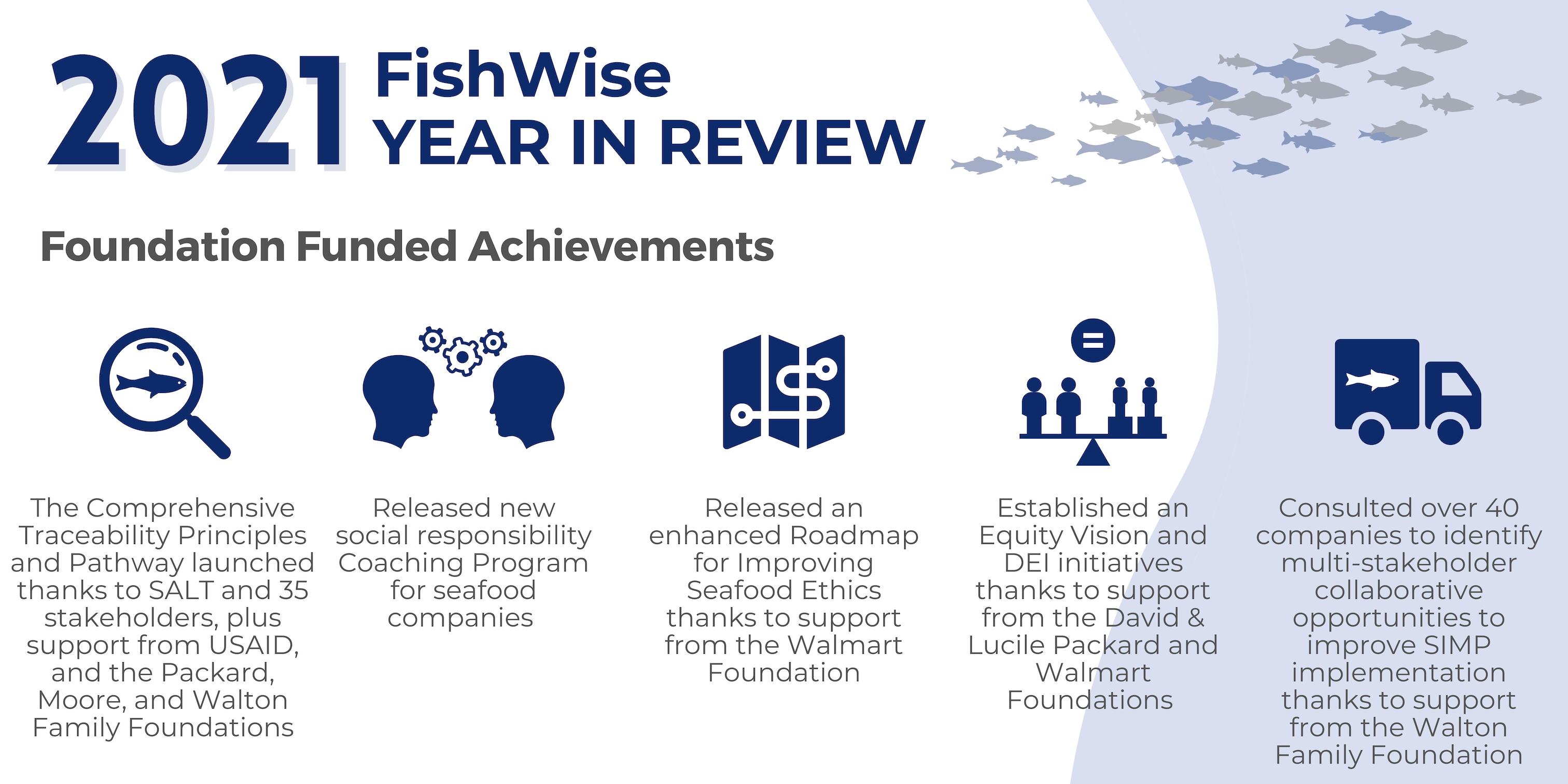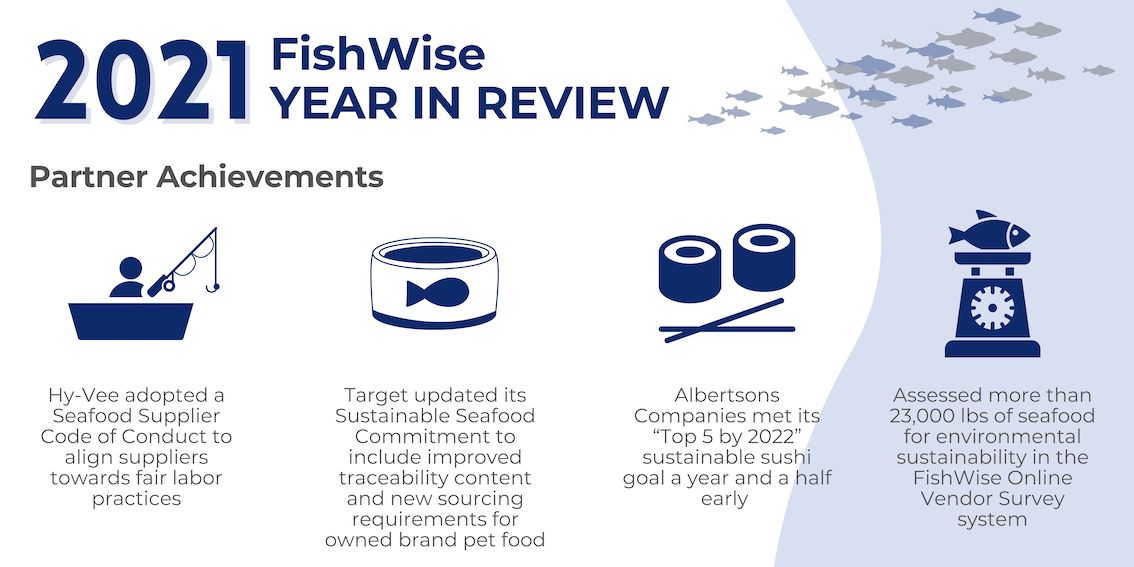 ECO-FRIENDLY SEAFOOD PACKAGING
Seafood sustainability is about so much more than just environmental sustainability. It's about the people who helped harvest, process, and provide your fish and even the greenhouse gases produced to harvest, package, and ship your seafood. Be inspired by Organic Ocean President and General Manager, Guy Dean, who dedicated himself to ensuring all their seafood packaging is best in sustainability. Read more in our recent blog.
Passion in the job
creates change in the world
An Nguyen, Project Manager
What book has been an inspiration to your work?
All We Can Save - Edited by Ayana Elizabeth Johnson and Katherine K.Wilkinson

What initially made you want to work with FishWise?
I was drawn to the opportunity to create change for a more sustainable and equitable future.

What is your favorite way to play in the ocean?
I love to swim and free dive. Being in the water allows me to be present and it's also a great way to explore the underwater world.
Meet Barbara Lenssen!
As the Director of Human Resources, Barbara brings 17 years of people and culture management experience to FishWise. She earned her Master of Arts in International Policy Studies at the Monterey Institute of International Studies. Outside of work, Barbara has a passion for sailing and like most of us, is deeply connected to ocean well-being.


Seafood
Community Splash
Last month, the Global Fishing Index assessment was released as a call to action for the seafood industry and governments to commit to improving fisheries operations.

Inspirational Words
"What's good for the fish is good for the people." Norm Harry
Protect what you love
Give to FishWise today!
Thank you for your continued interest in FishWise.
Was this forwarded to you? Subscribe to FishWise's newsletter today!