Sustaining ocean ecosystems and the people who depend on them through transforming global seafood supply chains
| | |
| --- | --- |
| Message from the CEO | |
Greetings ,

Here in Santa Cruz, where land meets the sea and where FishWise was first conceived nearly twenty years ago, we are thankful for the arrival of the first rains of the season after a summer of raging fires like none we have ever witnessed before. Climate change is no longer a vague concept. Persistent droughts have left even our mighty redwoods parched and susceptible to extreme weather events. With the coming of winter, we breathe a sigh of relief. And, with the incoming administration that values science and recognizes climate change as an existential threat, we are thankful that the United States will rejoin the international community in this fight.

Just as with climate change, FishWise is acutely aware that realizing our mission to sustain ocean ecosystems and the people who depend on them by transforming global seafood supply chains will take a worldwide effort. Last week, we gathered virtually with colleagues from around the globe for the annual meeting of the Conservation Alliance for Seafood Solutions. We were heartened to rally around a new Alliance strategy that invites in the seafood industry for the first time, a sign of the progress we have made together and a recognition that it will take new collective approaches to meet our goals. And, we were inspired to see Mariah Boyle, a former FishWiser, step fully into her role as Alliance Executive Director. Her incomparable work ethic, commitment to building lasting partnerships, and vision for accelerating and increasing the collective impact of the sustainable seafood community will catalyze the organization to reach our ambitious objectives.

Finally, we are thankful for what appears to be a return to empathy in our country and in the world. 2020 has seen seafood companies turned upside down, migrant workers further imperiled, and grocery store employees become our frontline heroes. While the winter brings welcome rain and a chill in the air, it also brings another wave of the COVID-19 storm. If we are to get this pandemic under control and address the economic devastation it has wrought, we must foster empathy in government policy, in our communities, and at home. As the adage goes: it is time to think global and act local.

With hope,
Tobias Aguirre
NEW FUNDING ADVANCES OUR MISSION
FishWise is honored to receive grants from the David and Lucile Packard Foundation and the Walton Family Foundation to advance our mission. We are deeply grateful to these leading funders for their continued support and partnership, and we look forward to involving our business partners and colleagues in making real impacts together in the coming year.
TOKYO SUSTAINABLE SEAFOOD SYMPOSIUM 2020
Earlier this month, Ashley Greenley, FishWise's director of business engagement joined a panel discussion on "Strengthening the Implementation of Sustainable Procurement through the NGO Business Partnership" at the Tokyo Sustainable Seafood Symposium. Watch a recording of this session to learn more about FishWise's approach to working with our retail partners.

NEW TOOLKIT HIGHLIGHTS RISE
Last month, the Global Tuna Alliance launched the Tuna Social Responsibility Toolkit, an important resource for progressing work on human rights in tuna fisheries. We are pleased to have the Roadmap for Improving Seafood Ethics (RISE) featured throughout the guide. Read more on the Tuna Social Responsibility Toolkit in our recent blog

.
LATEST OPPORTUNITY WITH SALT
The Seafood Alliance for Legality and Traceability (SALT) is seeking a consultant or firm with expertise in digital government initiatives to support its comprehensive traceability principles. If you have experience designing and/or implementing digital government measures or services, we encourage you to apply today!

Passion in the job
creates change in the world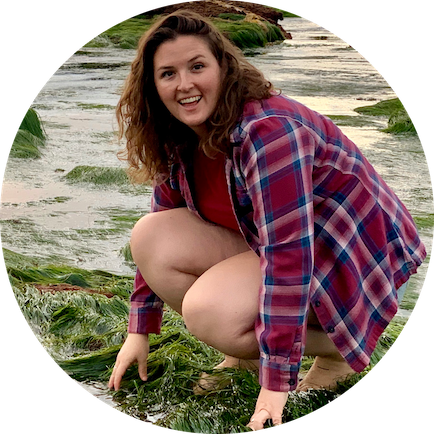 Nina Rosen, Project Manager
What is the latest book that has inspired your work?
The American Catch really impacted how I value fishing culture and tradition. Paul Greenberg explores the history and communities surrounding three popular, important American fisheries: eastern oysters, shrimp, and sockeye salmon. This book is written as a story filled with facts and interesting policies that frame our "struggle for biologically vital coasts, economically viable waterfront communities and good healthful food."
What is your favorite way to play in the ocean?
I love scuba diving in the kelp forests of coastal California. I first learned to dive in Mendocino county and became completely awestruck by the biodiversity that lives in these cold, rocky reefs. Now, in San Diego, I explore warmer waters with sea turtles, giant sea bass, and leopard sharks.

What is your most-loved seafood to cook with and why?
I really enjoy cooking rockfish for a couple reasons: it is very versatile - ceviche, tacos, baked whole, or grilled - and it is always tasty! Growing up in Monterey County, my dad told me stories about how he saw rockfish populations vanish from the kelp forests because of overfishing. But now, with proper management and collaboration, their stocks have rebounded and I get to see thriving rockfish when I go diving. I like supporting a local, well-managed California fishery.


INTERN BRINGS SKILLS, ADDS PERSPECTIVE
Samuel Naujokas (say "Now-yō-cuss") joined FishWise as a part-time intern to support the advancement division through conducting research to identify the U.S. Federal Government agencies engaged in policy, legislation, and appropriations and procurement related to FishWise's scope of work within sustainable seafood. Samuel comes to us from the Middlebury Institute of International Studies, where he's currently enrolled in the International Environmental Policy master's program, with a focus on ocean and coastal resource management. Previous to his graduate studies, he worked as a tribal environmental specialist for the Ketchikan Indian Community, a Tlingit and Haida tribal government in Southeast Alaska. Samuel earned a B.A. in environmental studies from The Evergreen State College. He was born and raised in Healdsburg, CA.



Seafood
Community Splash
Join us in welcoming
SAGE
, a new effort to build women's empowerment and gender equality in the harvest and production of seafood.

Inspirational Words
"Sometimes in the waves of change we find our true direction." Unknown
Protect what you love
Give to FishWise today!
Thank you for your continued interest in FishWise.
Was this forwarded to you? Subscribe to FishWise's newsletter today!